Big news from Nikon, it's newest flagship models have arrived! The surprise is that Nikon clearly isn't playing into the resolution/megapixel wars, since neither of these models breaks the 21megapixel mark. For those who don't need super high resolution, this can mean great things for other areas of image quality such as dynamic range and ISO performance. It's safe to say we can expect a lot from these DSLRs, so let's see what's cooking!
D500: The DX sports car
Quick specs:
DX Cropped sensor
20.9megapixels
153 point AF system
4K video internal recording (Cropped, 30min limit)
Snap bridge: constant, seamless transferring via Bluetooth
ISO range 100-51,200. Expandable to... 1,640,000
10FPS burst with a buffer up to 79 shots in RAW
Touchscreen, Tilting rear LCD with 2359K dots
Price: $1,999
The elephant in the room is of course the ridiculous iso range, over 1.6 MILLION. Keep in mind that it's very unlikely that it will be very usable that high, which is why they state the standard(usable?) range as 100-51,200. Still, 50K ISO should be enough for the vast majority of people.
Tilting AND Touch?
Nikon and Canon have been very reluctant to add such features to "pro" end cameras, but it's great to see Nikon taking that step. I'm not a fan of touch screen, but i'm a huge fan of tilting/swiveling screens. Nowadays with the video functionality, it's even more important to have a versatile LCD in a DSLR, since the viewfinders are optical, and provide no help when shooting video. Sony has bypassed this and gone mirror-less with electronic viewfinders. But for the pillars of 35mm & cropped sensor photography, i think it will be some time till we see "pro" end flagship models from Nikon or Canon(would be a great surprise if they did!)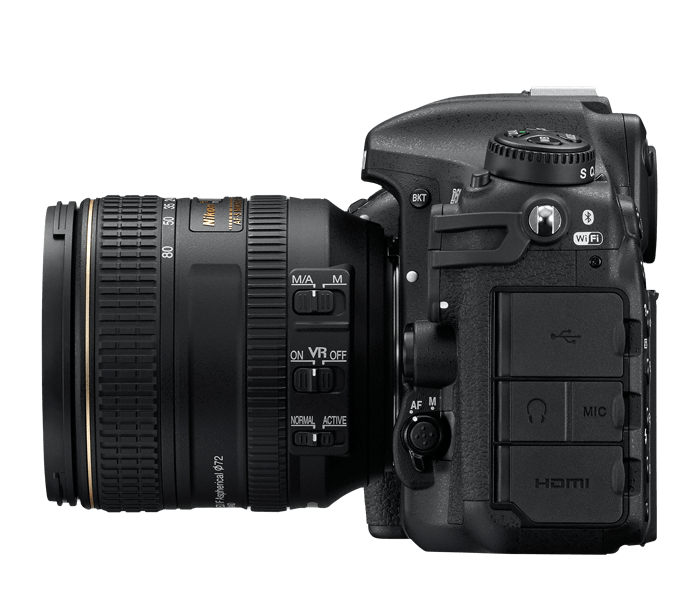 Bluetooth on steroids
Now that Bluetooth is mature, it has become very useful, and Nikon looks to be making great use of it here. The Snap Bridge claims to be a connection that stays on and actively transfers photos to a smart device for automatic uploads. One area i can see this being fantastic for is event shooters who need to do fast turnarounds for live updates.
Video not forgotten
A mic input and a headphone port shows that Nikon is keeping videographers and video journalists in mind. You can also record uncompressed video from the HDMI port at 4:2:2 8bit up to UHD 4K
Pricing
$2000 is considered high for a cropped sensor camera, but they are squarely aiming this at the pro crowd. And if you look at the camera it's intended to replace: the D300, that camera still sells for over $1700. The value will of course come from your particular uses and needs.
Nikon D5: The muscle car
Quick Specs
FX Full Frame sensor
20.8megapixel
153 point AF system
4K internal recording (Cropped, 3 minute record limit?)
Snap bridge: constant, seamless transferring via Bluetooth
ISO range 100-102,400. Expandable to... 3,280,000
12FPS burst with a buffer up to 200 shots in RAW
XGA rear touchscreen
Dual XQD or Compact Flash
Price: $6,499
The D5 is really the D500 on performance enhancers. a 200 shot buffer, over 3 MILLION iso, and a choice of compact flash or XQD slots.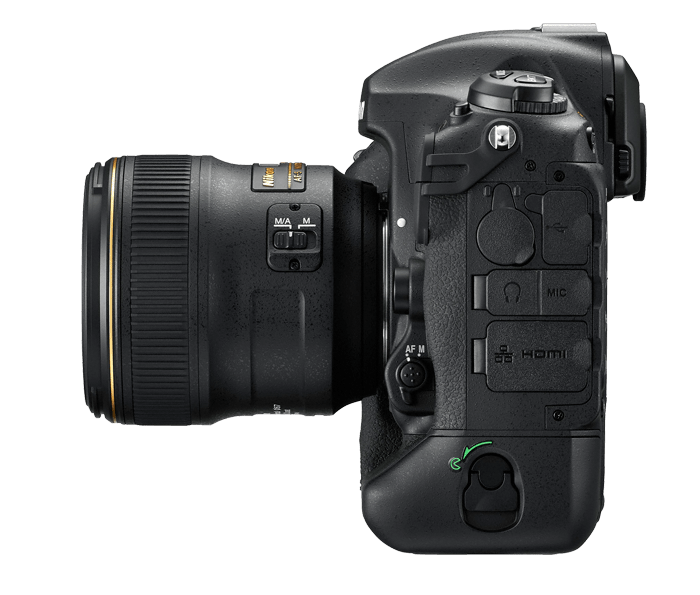 Pack in the features

To earn its price tag even more, it adds improved wired and wireless LAN functions. 400mbps over cable, or 130mbps with an optional wireless adapter which claims a transfer distance of up to 656ft!
They also have obviously not left out video shooters, as it includes a mic port and headphone port.
The question for many will be: is it worth over 3 times the price of the D500? The answer for many will be no. However, this is a series camera intended for a higher level of professional with particular needs(or just big pockets!) and for that rare high end enthusiast.